YG Entertainment To Debut A New Boy Group In July With Bang Yedam As A Leader?

Source: OSEN 
OSEN NEWS reported that YG Entertainment has announced they are planning to debut a new boy group in July of 2017th. And the main vocal of the group is said to be K-pop Star Season 2 runner up Bang Yedam.
In 2013th Bang Yedam,  2002-liner – age 14 (16 in Korean age), has won second place in K-pop Star 2 letting Akdong Musician take the first place, and signed a contract with YG Entertainment.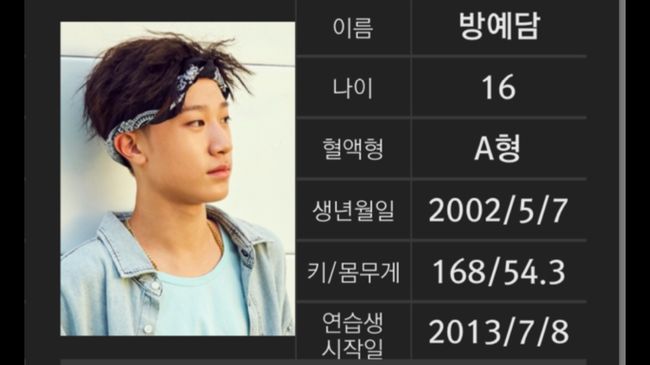 Source: OSEN
During K-pop Star 2 Bang Yedam was only 12 years old (Korean Age), but his charms managed to captivate SM, YG and JYP judges along with the audience. Everyone fell in love with his dancing and singing to Stevie Wonder's "Isn't She Lovely", Justin Bieber's "Baby", Culture Club's "Karma Chameleon" and "Black Or White" by Michael Jackson.
After signing a contract with YG, following the first place winners "AKMU" and training diligently for several years Bang has grown to be 170 cm tall and has earned a nickname "Gem of YG".
According to reports, YG is planning to debut their youngest boy group consisting of members age 15 – 17.
That will be the main difference between YG's other boy groups, such as BigBang, Winner and Ikon. Even though, members of the upcoming group are really young, YG has high hopes for them, since it is said, that all members have been training for about 4-5 years. Considering the training years, new boy group is said to have a veteran feel to it living up to Yang Hyunsuk's standards and expectations.
While waiting for YG Entertainment to debut a new Boy Group In July, we might expect comebacks from BLACKPINK, iKON, SECHSKIES and WINNER during this spring (April to June) although with YG Entertainment you can never be sure.
Bang Yedam singing "Black Or White" by Michael Jackson in K-Pop Star 2 
Bang Yedam singing Stevie Wonder's "Isn't She Lovely"
Bang Yedam singing Justin Bieber's "Baby"
Bang Yedam singing Culture Club's "Karma Chameleon"
---
Source:  OSEN